Car License Number Plate Reflective Sheeting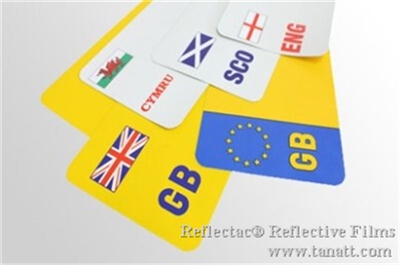 Non Adhesive Laser & Thermal & Multicolor Printing
Face Film: Frosted Acrylic
Film Thickness: 215 mics
Liner: 75 mics PET
Durability: 5 years Outdoor
Width: up to 124cm, can be customized
AVG(RA): ≥50 CIL/㎡ (After Apply To Plate)
Feature: Laser / Thermal / LATEX printing
TN9027 Car License Plate Type reflective films Description
TN9027 license plate grade reflective sheeting designed for license plate in UK, Spain, France, South Africa. Up to 5 years outdoor exposure with the material, white and yellow are most world widely use. Required to combine clear plate either PMMA, PVC or PET with reflective sheeting.
Our company Tanatt Reflective is supplying the reflective sheeting with the jumble rolls, it can be the blank reflective film or pre-printing reflective sheeting, according to customers requirement and also quantity.
Customers who are looking for the final number plate, then you should go to your local number plate producer.
Technical Data
Retroreflective Elements: enclosed glass beaded
Durability: 5 years outdoor by the specialist application (under vertical outdoor exposure)
Roll Sizes: 1.24M (W) x 45.7M, 48" (W) x 50 yards
Coefficients of Retroreflection (Ra):White:

50 cd/lux

at O.A.0.2/E.A.-4

after

apply for the plastic acrylic plate

The coefficient of retroreflection R' in cd/lx per ㎡ applying to BS AU 145d:1998
Observation angle
0.2°
0.33°
1.5°
Entrance angle
5°
30°
45°
5°
30°
45°
5°
30°
45°
White
60
25
6
40
15
3
4
2
0.7
Yellow
40
18
4
30
10
2
3.5
1.5
0.5
Colours (BS AU 145d:1998)
1
2
3
4
Luminance factor β
x
y
x
y
x
y
x
y
white
0.355
0.355
0.305
0.305
0.285
0.325
0.335
0.375
>=0.34
yellow
0.545
0.454
0.487
0.423
0.427
0.483
0.465
0.534
>=0.2; <=0.4
Film Thickness: 215 mic
Face Film: Frosted Acrylic

Adhesive: Non-adhesive, back with PET

Application Temperature: 15℃ or higher by any of the following methods:

Mechanical squeeze roll applicator
Hand squeeze roll applicator
Hand application is recommended for copy only
Leading Time
We have regular stock in the warehouse, otherwise, it will take 7-10 days upon deposits receive. Please confirm with us before ordering.
OEM & ODM
For order less than 100 rolls, we can do OEM Carton and Product mark
For order more than 100 rolls, and request your own logo, it needs one more deposit.
Quality Inspection
Raw material inspection: From face film to release paper, all the material will be strictly inspected before putting into production. We only use Qualified raw materials;
Production inspection: QC will cut production samples, bring it to our own lab then inspect brightness, stretch, thickness, etc.,also they will bring Brightness detector to production line and check for brightness.
Final inspection:We will sample test the final product, and also do inspection under client's requested.
Package
Inner packing: PET inner film + Plastic Bag + 2 pc Plastic Plug
Outer packing: 5 layers carton box with carton sealing nail
| Model | Size (M) | Carton (M) | N.W. (KG) | G.W. (KG) | 20GP (Roll) |
| --- | --- | --- | --- | --- | --- |
| TN9027 | 1.24*45.7 | 1.31*0.21*0.24 | 21.6 | 25 | 360 |
*This data only for reference
*Please contact our staff for customized products.
*The data does not include the pallets size, if your order is less than

one container

, we recommended using pallets for protecting the goods.

Loading Port:

Shenzhen or other China port
Storage
Reflective Sheeting must be used within 1 year after the date of receipt from Tanatt;
Please use PET inner film to tightly packed partially used Rolls, then return it back to the shipping carton. Vertically placed it can avoid distortion due to substrate buckling or extension due to moisture absorption, and avoid pressure that may damage the reflective layer.
Store the sheeting in a clean, dry area at 20 ℃ and 50% relative humidity and away from direct sunlight;